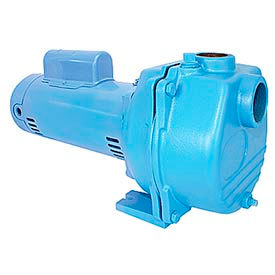 Lawn Sprinkler Pumps
Lawn Sprinkler Pumps Are Designed to Transfer Water For Sprinkling Applications Including Residential, Commercial, Agricultural, and more.

Lawn sprinkler pumps transfer water from natural sources such as ponds, streams, or lakes and transfer it for sprinkling lawn, shrubs, or trees. The units are made of multiple materials including cast iron, steel, nylon, and thermoplastic providing low maintenance and corrosion resistance for years of reliable service. The pumps ensure fast priming after the initial liquid is added to the pump. Some models include a 230 volt motor (dual voltage). Dimensions vary per model.