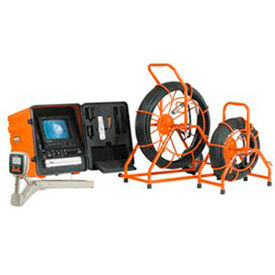 General Pipe Cleaners Pipe Inspection / Location Systems
Pipe Inspection And Location Systems Provide Analysis Tools To Detect Problems Within Pipes And Drains Using Push Rods With Camera Ends.

Pipe Inspection And Location Systems provide a rugged video inspection system in a compact, portable package that accommodates 2" up to 10" drain lines and plumbing systems. Reels are durably constructed of steel to contain push rod cables for long lasting reliability and strength. Systems feature a color camera with a large LCD monitor that provides a clear image of pipes for efficient and thorough visibility. Some models feature a self-leveling camera that automatically keeps picture right side up as the camera glides through the line. Available cable lengths are 65, 100, 125, 130, 150, and 200 feet. Dimensions and accessories vary per model.