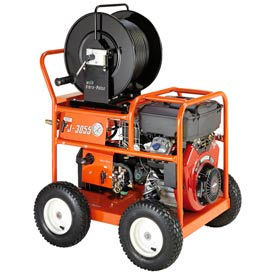 General Wire Jetting Machines
General Pipe Cleaners Jet-Set™ Pipe Cleaners Are Used For Clearing Soft Stoppages And Ice From Drain Lines.

Water jets utilize a stream of high pressure water that hits stoppages and flushes it away. The thrust of the nozzle drives the hose down the line and gives you wall-to-wall pipe cleaning action. Great for use in restaurants, hotels, hospitals, shopping malls, factories and septic systems. Triplex pump with Vibra-pulse® breaks the initial tension between the surface of the hose and the walls of the pipe to help the hose slide around tight bends and propel itself further down the line. Gas Powered Water Jets provide up to 3,000 psi pressure. Motor features low oil shut off and gear reducer. Electric Powered Water Jets offer 1,500 psi pressure and 1.7 GPM flow rate. 1-1/2 HP, 13 amp motor offers GFCI protection.