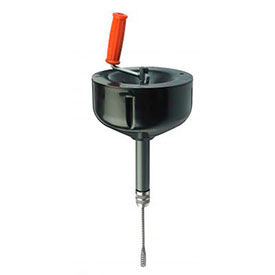 Manual Floor & Hand Units
Hand And Floor Pipe Cleaning Tools Are Used For Clearing Small To Medium Stoppages In Showers Sinks Or Tubs.

Hand And Floor Pipe Cleaning Tools are solidly made for long lasting durability and dependability. General or RIDGID® brand manual Hand Held type units are available with 25 ft. length, 1/4 and 5/16 in. diameter Regular Head, Down Head and Bulb Head cable types. Some manual units may also be attached to a drill if desired. RIDGID® Kwik-Spin® and Power-Spin® units with high strength Maxcore™ cable feature autofeed trigger that feeds and retracts cable as the drum turns for easier utility. General Floor Units come with 50 ft. length, 3/8 and 1/2 inch diameter Flexicore wire rope center cables. Drum is made of rust resistant heavy-gauge steel. Three holes are punched in the drum for quick cleaning and drying of cable. Drum turns easily on self-aligning oilite bearings mounted front and rear. Convenient carrying handle mounted on drum for easier portability.