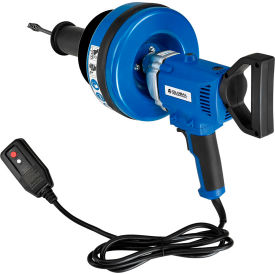 Handheld Drain Cleaning Machines
Handheld Drain Cleaning Machines Provide Efficient and Targeted Cleaning for Plumbing Lines up to 3" in Diameter.

Handheld Electric Machines feature drum housing made of stamped aluminum with an inner drum to prevent cable tangling. Ridgid Sink Machines feature leak proof Inner drum and quick acting slide chuck to lock cable. Inner drum design virtually eliminates cable flip-over and allows for quick cable change out. Used for clogged sinks, bathtubs and roof stacks with pipes from 3/4" to 3" diameter. Available in Power-Vee (Automatic) and Super-Vee (Manual) or Autofeed. UL listed. 1 Year Limited Warranty.