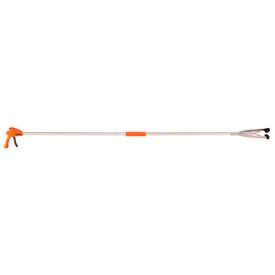 EasyReach™ Pick-Up Tools
Pick-Up Tools And Grapplers Are Used For Cleaning Rocks And Debris From Traps, Manholes And More.

Pick-Up Tools And Grapplers are solidly made for long lasting durability and dependability. General Easy Reach™ Pick Up Tool is sensitive enough to pick up small screws and washers, strong enough to pick up large rocks or other debris. Locking trigger allows for securing objects without further trigger pressure. Made of extruded aluminum and stainless steel. Two thermal plastic rubber caps open 4-1/2 inches wide. Available in 32, 40, 60, 72, 96 and 120 ft. lengths. RIGDID® Grappler Hook is designed to retrieve rocks, tools and objects from traps, manholes or other out-of-reach areas. Extends to 6 feet (72 inches) in length.