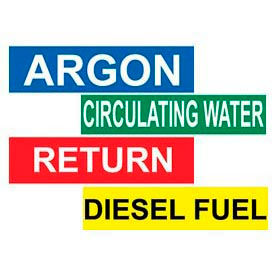 Pressure Sensitive Vinyl Pipe Markers 2-1/4" X 14"
Quickly Identify Plumbing Problems with Pipe Markers

Durable pressure- sensitive vinyl pipe markers are an economical choice. All pipe markers meet ANSI standard A13.1 1996. Vinyl pipe markers withstand temperatures from -40°F to 250°F. Adhesive vinyl attaches directly to the pipe to provide plumbing safety warnings. Sold 25 per pack.

Purchase the pipe marker that's right for you.
White on Red: Fire quenching materials Water, Foam, CO2.
White on Blue: Materials of inherently low hazard
Gas or gaseous admixture.
White on Green: Materials of inherently low hazard
Liquid or liquid admixture.
Black on Yellow: Inherently hazardous materials Flammable or explosive, chemically active or toxic, extreme temperature/pressure, radioactive.