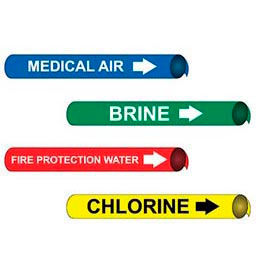 Precoiled And Strap-On Pipe Markers For 1-1/8" - 2-3/8" Pipe Diameters
Precoiled pipe markers are great for use on wet, oily, cold and dusty pipes where pressure sensitive vinyl markers wont hold. Strap-on markers fit on pipe diameters from 1-1/8" to 2-3/8". These color coded safety markers prevent injury by providing warnings for specific hazards. Safety pipe markers can be easily removed and reapplied to other areas. Pipe markers allow 360° visibility for both indoor and outdoor environments. Markers are 8"W with 3/4"H letters. Safety pipe markers help conform to ANSI A13.1996 standards for pipe identification.

Purchase the pipe marker that's right for you.
White on Red: Fire quenching materials
Water, Foam, CO2.
White on Blue: Materials of inherently low hazard. Gas or gaseous admixture.
White on Green: Materials of inherently low hazard. Liquid or liquid admixture.
Black on Yellow: Inherently hazardous materials. Flammable or explosive, chemically active or toxic, extreme temperature/pressure, radioactive.