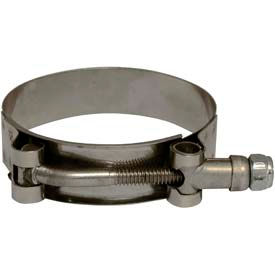 Stainless Steel Ultra T-Bolt Clamps
Stainless Steel Ultra T-Bolt Clamps Secure Hose Lines for Automotive, Plumbing, Industrial, and Other Related Applications.

These T-Bolt camps are constructed completely of high-grade stainless steel for long lasting durability. T-bolt is threaded the entire length to allow for maximum range of size and tension. Clamp will handle high torque, creating even sealing pressure around the coupling shank. Includes nylon locking nut. Available in min/max diameters 1-5/16"/1-11/16"-4-9/16"/4-15/16".