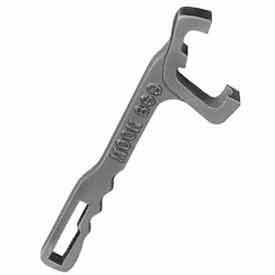 Fire Hose Spanner & Hydrant Wrenches
Fire Hose Spanner And Hydrant Wrenches Are Used Plumbing Accessories For Use With Fire Department And Industrial Hose Fittings.

Fire Hose Spanner And Hydrant Wrenches are made of aluminum and steel for long lasting durability and strength. Hose wrenches provide solid leverage for tightening and loosening couplings on hose and hydrant accessories. Wrenches are designed for use on pin, rocker, or navy slot lug type fittings. Pry lever, gas shut-off, and door stop features available on some models. Available wrench types are Hydrant Wrench and Spanner Wrench. Wrench styles are Adjustable, Combination, Common, Storz, Tabor, and Universal. For use with lugs ranging from 1/4 to 6 inches. Dimensions vary per model.