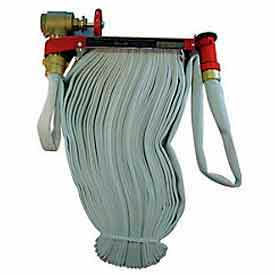 Fire Hose Pin Rack Units
Fire Hose Pin Rack Units Are Used Plumbing Assemblies And Fittings For Fire Departments And Industrial Fire Hoses.

Fire Hose Pin Rack Units are made with a polyester jacket and rubber lining for long lasting durability and strength. Hose fittings are designed for factory and warehouse storage of 1-1/2" width fire hoses. Complete unit includes Rack, Hose, Valve, Nipple and Nozzle. Nozzle material is Plastic and Brass. Available hose lengths are 50, 75 and 100 feet. Color finish is Red Enamel.