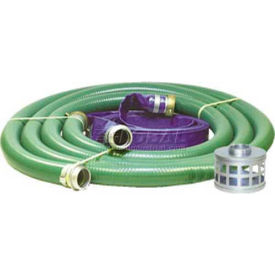 Transfer Pump Hose Kits
Apache™ Transfer Pump Hose Kits Are Used For Commercial And Industrial Applications.

Transfer Pump Hose Kits are built with flexible and abrasion resistant PVC helix for long lasting durability. Smooth bore design eliminates build up and allows for maximum flow. PVC discharge hose tube/cover reinforced with 3 ply polyester yarns extruded simultaneously to obtain maximum bonding. Rugged steel or polypropylene strainers assure clean flow and prevent large debris from damaging pump. Aluminum and polypropylene couplings and fittings provide ease of use. Available in diameters 1"-4"