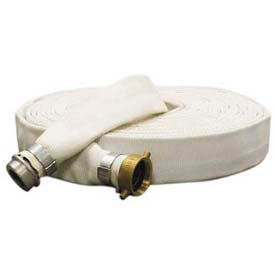 Mill Wash Down Discharge Hoses With Connections
Apache™ Mill Wash Down / Discharge Hoses Are Used For Contractors And General Purpose Use.

Mill Wash Down / Discharge Hoses feature a weather resistant extruded synthetic rubber lining wrapped in a 100% polyester single jacket cover for long lasting durability that won't mildew or decay. Lightweight and easy to handle for quick clean up and wash down in factories and mill yards. Band-It™ clamps assure tight fittings. Aluminum couplings and fittings are lightweight and strong for fast-paced and heavy-duty use. Available in lengths 2', 50' and diameters 1½"-6"