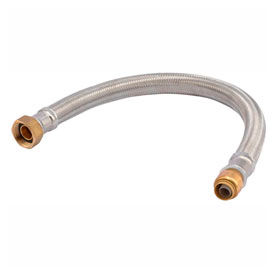 Push-Fit Water Connectors
Push-Fit Water Connectors Are Used For Applications Including Residential, Plumbing, Commercial, And More.

Push-fit water connectors are made of stainless steel for long lasting durability and corrosion resistance. Units are designed to connect hot and cold supply lines to water heater. Allows convenient connection to copper, PEX, and CPVC tubing eliminating additional transition fitting requirements. Connectors are EPDM knitted with braided stainless steel. Available types include Braided Water Heater Connector, Braided Water Heater, Corrugated Water Heater Connector Hose, Water Heater Connector, and Water Softener Hose. Package quantities are 6 and 12. ASSE, NSF, ANSI, and CSA approved. Dimensions vary per model.