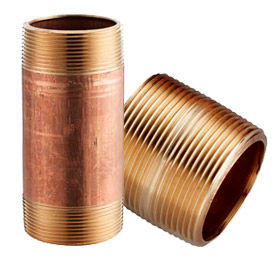 Red Brass Seamless Schedule 40 Pipe Nipples
Red Brass Seamless Standard Pipe Nipples

Brass nipples are produced from Seamless Red Brass Pipe, which is Alloy 230. Red brass nipples are easier to machine, less brittle to work with and far more resistant to corrosion than yellow brass (will not dezinctify). Brass offers good corrosion resistance from water and heat and resists attack from salt water and acids, minerals and peaty soils contained in water. Brass is utilized primarily for water in commercial plumbing and OEM applications, but is also used in oil, gas and steam applications. Available in a wide selection of 1/8 to 4 inch diameters and 1/8 to 1-1/2 inch lengths.