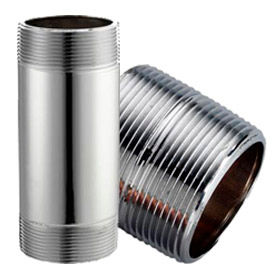 Chrome Plated Brass Nipples
Chrome Plated Brass Nipples Are Used For Water In Commercial Plumbing And OEM Applications, As Well As Oil, Gas And Steam Applications.

Chrome Plated Brass Nipples are produced from Seamless Red Brass Pipe, Alloy 230 to provide long lasting durability. Chrome Plated brass nipples are easier to machine, less brittle to work with and will not dezincify. Corrosion resistance from water and heat; resists attack from salt water and acids, minerals and peaty soils contained in water. Brass doe snot attract dirt and bacteria so they are easy to clean and maintain shiny finish. Available sizes range from Lengths range from 3/4" - 12" and Close.