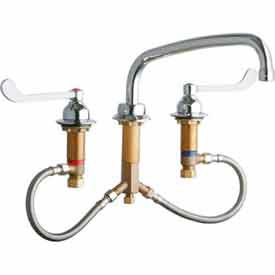 Elkay 800-Series Scrub & Laboratory Faucets
Elkay Commercial Faucets Are Used For Use In Warehouses, Restaurants, Workshops And Other Industrial Or Institutional Facilities.

Elkay Commercial Faucets are made of cast brass with polished chrome for long lasting durability and dependability. Sturdy high reach Gooseneck swivel 3-5/8 to 12 inch spout units come with functional Double 4 in. Wrist Blade, Double 6 in. Wrist Blade or Double Lever handles. Available to fit 1, 2 or 3 faucet holes. ADA compliant.