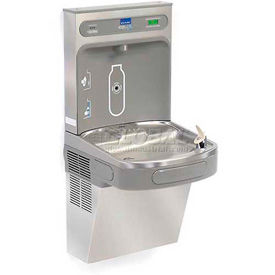 Elkay® ezH2O® Wall Mounted Water Bottle Refilling Stations
Elkay® ezH2O® Wall Mounted Water Bottle Refilling Stations Provide Convenient Potable Water Access For Break Rooms, Cafeterias, Gymnasiums, and Other Related Environments.

Elkay® ezH2O® bottle filling stations provide drinking water from a traditional fountain bubbler and also allows filling of water bottles with ease. Chose from refrigerated units which provide 8 GPH of chilled water or non-refrigerated units. Wall Mount Stations are used in educational and healthcare facilities including fitness clubs and hospitality applications.
ADA compliant. Easy-Touch activated units feature front and side pushbars which require less than 5 lbs. of force to activate.

Bottle Filling tops feature a no-touch electronic sensor to provide ease of use. Antimicrobial finish is featured on key areas for extra sanitation. Includes automatic 20-second shut-off timer. Quick fill rate is 1.1 GPM for refrigerated units and 1.5 GPM for non-refrigerated units.
Water Sentry® Plus 3000 gallon filter included for taste, odor and lead reduction. Silver ion coating provides anti-microbial protection. Minimal splash and no standing water provided by laminar flow and a real drain.
NSF/ANSI 61 Compliant.