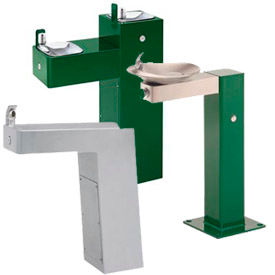 Haws® Galvanized Barrier-Free Pedestal Drinking Fountains
Haws® Barrier-Free Pedestal Drinking Fountains Are Used For Parks, Campuses, Playgrounds, And More.

Made using heavy gauge galvanized steel with a powder coat finish. Water fountains feature a recessed push-button and welded bubbler guard. All bubblers are chrome-plated brass. Bubbler head features an integral basin shank. Vandal-resistant. Water fountains are available in a variety of pedestal designs with stainless steel or green coloring. Available in single fountain units or Hi-Lo dual fountains for multiple simultaneous users. Tough Style Fountain features an EnviroGard™ bubbler head that provides sanitary service in the worst conditions. Stainless steel shroud covers orifice until the water is activated and covers it again afer use. StreetSmart™ Fountain is made using 12 gauge Type 304 stainless steel with integral 3/8 thick cast stainless bowls. ADA approved. ANSI/NSF compliant.