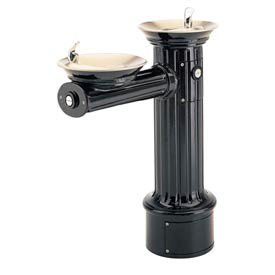 Antique-Style Pedestal Drinking Fountains
Antique-Style Pedestal Drinking Fountains Meet ADA Standards For Accessible Design.

Antique-Style Pedestal Drinking Fountains are made with a Victorian design. Some models have bi-level bowls to meet ADA requirements. Pedestal, arm, and pedestal are heavy duty iron, with heavy grade of oil-based black enamel finish to provide long lasting durability. Access covers are secured with vandal resistant stainless steel screws. Bowls have round, solid brass castings. Self-closing pushbutton activates internal mounted valve with adjustable stream regulator to control water flow. Bubbler is stainless steel and operates on a water pressure range of 30 - 105 PSIG. Pet fountain attaches to side. Installations are Floor or Floor/Wall. 1 or 2 stations. Some models are freeze resistant and ADA compliant. All solid brass castings conform to ASTM standards B61 and B62. This unit conforms to ANSI A117.1, 2010 ADA Standards for Accessible Design, ANSI/NSF 61-9, and Public Law 111-380. Dimensions vary.