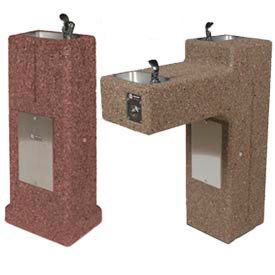 Concrete Outdoor Pedestal Mount Drinking Fountains
Concrete Outdoor Stone Pedestal Mount Drinking Fountains are Weatherproof and Corrosion Resistant for Prolonged Outdoor Use.

Outdoor Pedestal Mount Drinking Fountains are made of pre-cast concrete with lead free components including stainless steel receptor, access doors, and mounting brackets to provide weather proof and corrosion resistance that's great for outdoor applications. Outdoor drinking fountains include vandal-resistant screws and double bubbler projector with chrome plated exposed fittings for theft protection and an attractive finish. Smooth, contoured basins with rounded corners and edges helps reduce splatter, ensure proper drainage and prevent standing waste water. Concrete drinking fountains are easy-to-clean and have beveled edges and corners for safety. ADA Accessible Drinking Fountains without barriers are available. Dual Drinking Fountain includes a side faucet to accept up to 2 users at once. Freeze Resistant Drinking Fountains feature a resistant valve system designed for ground installation 18 below the frost line. Includes 60" of access tubing. Freeze resistant fountains prevent frost or frozen water in colder climates. Optional Hose Bib Kit and Self Closing Faucet are sold separately.