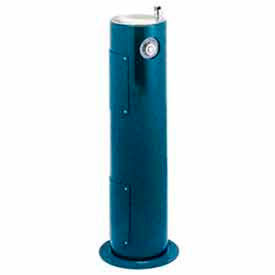 Halsey Taylor® Outdoor Drinking Fountains
Halsey Taylor® Outdoor Drinking Fountains Are Perfect For Outdoor Use In Various Public Settings.

Used for installation in public areas. Contour formed stainless steel basin with rounded corners and edges reduces splatter, provides proper drainage and prevents standing waste water. Self-closing assembly is located inside unit to prevent tampering. Unit resists corrosion and liming. Constant stream height is automatically maintained under line pressures that vary from 20 to 105 psi. Easily cleaned in-line strainer screen traps particles of 140 microns or larger before they enter the waterway. Endura™ & Endura II™ Fountains are made of cold rolled steel with a textured powder coat finish and E-Coat immersion process for year-round beauty with minimum maintenance and ultimate corrosion protection. Self closing, vandal-resistant pushbutton does not require grasping or twisting.