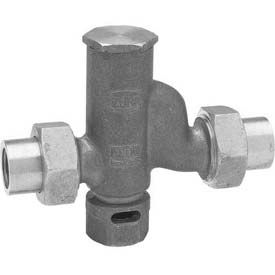 Zurn Automatic Trap Primers
Zurn Automatic Trap Primers Are Used Where Drains Are Infrequently Used And Provides Positive Protection To Maintain Trap Seals.

Zurn Automatic Trap Primers are made with a bronze body for long lasting durability. Features an integral vacuum breaker operating assembly that is non-liming for added safety and protection. Includes a piston inside the trap that raises when water flows through the supply line for superior flow performance. Bronze cover with gasket. Available in No Hub, Solder Female, IP Female or Solder Female W/ Union. Connection size is 1/2, 3/4 or 3 inch. Dimensions vary per model. Connector Adaptor is made of Dura-coated cast iron for enhanced reliability.