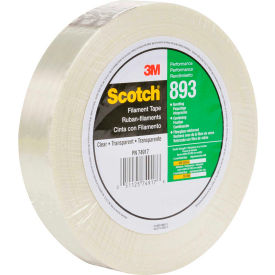 Industrial Strapping Tape
Industrial Strapping Tape Supports Palletizing, Bundling, and Securing Loads For Commercial, Industrial, and Distribution Applications.
Mils range from 5.4 to 7
Length is 60 yards
Widths range from 1/4" to 4"
Strapping tape includes glass filament reinforcement for maximum tensile strength. Industrial grade adhesive holds packages and boxes securely in place when palletizing, bundling, and securing loads in extreme temperature environments. When choosing a sturdy tape for moving, packing, or securing contents in boxes, here are a few points to consider:
Tensile Strength:
Pressure-sensitive adhesive coated onto a backing material (usually a polypropylene or polyester film) with embedded fiberglass filaments adds the tensile strength you need to protect boxes and packages at all points of moving, jostling, and shipping.
Mil Thickness:
Generally the heavier the box, the thicker millimeter tape you want. Millimeters for this tape range from 5.4 to 7.
This tape is available in a 60 yard length and the colors are clear and white. Rolls per case vary.