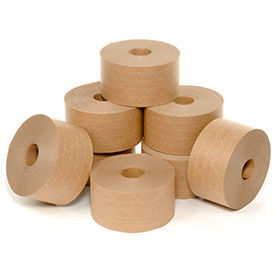 Water Activated Paper Carton Sealing Tape
Water Activated Paper Carton Sealing Tapes for use with Water Activated Kraft Tape Dispensers.

Heavy duty reinforced paper with Water Activated Adhesive bonds to corrugated even in dusty or dirty conditions. The adhesive bonds to the porous corrugated surface to form a powerful secure bond. The superior strength from the reinforcing threads allows for a single piece of tape to be used to secure packaging and provides tamper evidence if the box is opened before delivery. The heavy paper construction and ability to set tape length with the tape dispensers makes it easy to handle and seal boxes. Secure sealing but allows for easy opening once delivered.