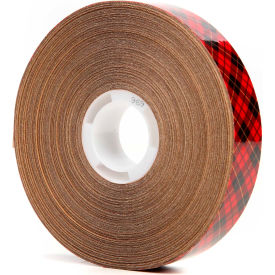 Adhesive Transfer Tape - Dispenser Rolls
Adhesive Transfer Tape Dispenser Rolls Provide Packaging and Supply Stability For Commercial Environments, Distribution Centers, Warehouses, and Other Shipping Applications.
Paper liner with acrylic adhesive construction
Conforms to curves and contours
Aggressive adhesive
Lengths range from 18 to 72 yards
Rolls per case range from 12 to 72
Adhesive transfer tape dispenser rolls are designed to wrap and secure various packaging materials including cardboard, plastics, wood, glass, metals, paper, and more. Most models feature a paper liner with acrylic adhesive construction for resisting heat, humidity, chemicals, and more. Aggressive adhesive provides strong holding power that can support textured, rough, or uneven surfaces. Colors and additional specifications vary per model.