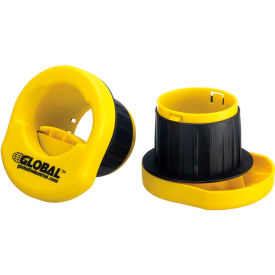 Hand Saver Stretch Wrap Dispensers
Hand Saver Stretch Wrap Dispensers Allow Quick and Efficient Package Wrapping for Warehouses, Shipping Facilities, Packaging Plants, and more.

These dispensers make stretch wrapping comfortable, easy, and time efficient for user convenience. All hand saver dispensers are designed to be inserted into the core ends of the wrap to give employees greater control and reduce injuries during the packaging process. The core cup styles are designed to be inserted and for the users hands to rest inside the core during application. The cups are designed to allow the roll to spin without friction on the users hands. The pistol grip style dispenser has a tension adjustment feature with a comfort fit grip handle to reduce user fatigue, when using this style the users hands are placed on handles outside the core. The dispensers are made of plastic making them both strong and extremely light weight. Hand saver dispensers can be used with Cast, Blown, Pre-Stretched and Netted films as long as they are on a 3" core.