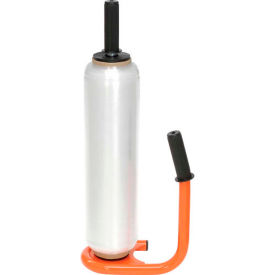 Hand Held Stretch Wrap Dispensers
Hand Held Stretch Wrap Dispensers Makes it Easier to Use Hand Stretch Wrap for All Packaging Applications.

Hand held stretch wrap dispensers provide even wrapping with consistent tension for superior packaging and wrapping, typically reducing the amount of stretch wrap material needed to secure loads. Stretch Wrap Dispensers are lightweight and compact for quick roll changeover. No operator training or tools needed. Stands upright, saving stretch wrap from tipping damage. Stretch wrap dispensers can secure palletized loads and can be used with Cast, Blown, Pre-Stretched and Netted films. .