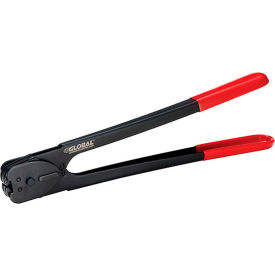 Steel Strapping Tools - Sealers
Steel Strapping Sealers Secure Packages and Equipment For Various Applications Including Commercial, Industrial, Shipping, and Other Related Applications.

Steel strapping tools – sealers are designed to fasten horizontal and vertical strapping tape seals for pallets, boxes, cartons, and more. The aluminum and steel construction ensures lasting strength and durability. Tools with rubber grip improves handling while reducing hand fatigue for user comfort. Units support various strapping sizes allowing content and application versatility. Dimensions, duties, and types vary per model.