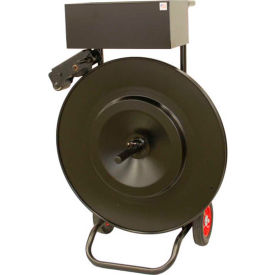 Strapping Carts & Dispensers - Steel
Steel Strapping Carts and Dispensers are used for Commercial and Industrial Packaging Applications.

Steel Strapping Carts and dispensers are made of solid steel framing and construction for long lasting durability and dependability. Types available are Strapping Carts and Strapping Dispensers. Core sizes are 8" and 16". Strap widths range from 1/2" to 2". Carts are designed to move easily to various work locations on solid non-marring rubber wheels with built-in brakes. Built-in storage bin for tools and easy grip handles. For use with Steel Strapping.