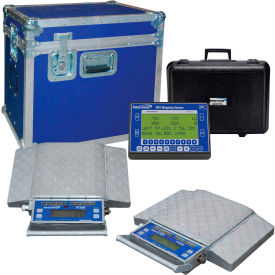 Portable Truck Scale Systems
Portable Truck Scales Provide Weighing Measurements For Hefty Vehicles In Need of Load Weight Assessment.

Portable truck scales are designed to weigh single, dual, or triple axle vehicles with heavy load capacities by steering the vehicle over the designated platform. Scales are compact in design for easy transport opportunities. Large lettering display of scale results allows for easy to read weight indication. Select units provide solar powering energy during daytime outdoor use and wireless printing capabilities. Sturdy aluminum construction provides lasting durability. Maximum capacity limit range is from 5,000 - 50,000 lbs. Dimensions and additional specifications vary per model.