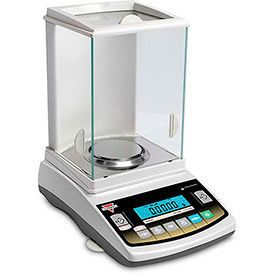 Analytical Balances
Analyical Balances and Scales Are Used For A Variety Of Laboratory, Workplace Or Classroom Balancing And Weighing Applications.

Precision Balances And Scales are solidly manufactured for long lasting durability and dependability. Many Analytical And Precision Balances feature large draftshield with sliding top and side doors and Up-front level indicator. Removable doors provide convenient access and easy cleaning. Many feature removeable stainless steel weighing platform, high contrast LCD display, fixed integral weigh below hook, all-glass draught shield withsliding doors, front leveling bubble, menu and calibration locks.

Many models accurately measure in grams, ounces, grains, carats, pennyweights and troy-ounces. Various size units are available with 0.00001 - 2 gram readability and 50 - 35000 gram capacities.