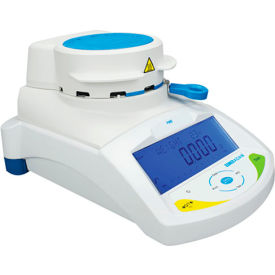 Moisture Analyzer Lab Scales
Moisture Analyzer Lab Scales Are Used For A Wide Variety Of Pharmaceutical, Chemical, Food, Textile, Wastewater And other Applications.

Moisture Analyzer Lab Scales are made of Cast Metal or Aluminum bases with durable plastic top housings for long lasting use and dependability. Adam® Equipment, Ohaus & Torbal brands offer various type, size and capacity units to meet particular need or application. Selected features include memory stick or integrated memory, USB interface, soft close doors, automatic test start, easy to read backlit displays, intuitive software and more. Various size units with 3-1/2 or 5-11/16 inch pan sizes are available with 0.001, 0.002, 0.005 and 0.01 gram readability and 35, 45, 50, 60, 110, 120 and 200 gram capacities.