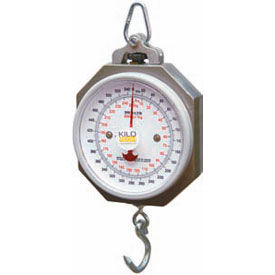 Industrial Hanging Scales
Industrial Hanging Scales Allow Weighing Accuracy for Shipping Companies, Grocery Stores, and more.

These hanging scales feature high industrial quality that's great for butchers, fish markets, and dairy and produce shops. These hanging weight scales have a durable, scratch resistant cast aluminum body and a shatter resistant face plate. Heavy duty welded steel mounting shackle ring and pointed large J-hook. The single sided 7-1/2 dial kg. and lb. dial of these hanging weighing scales are easy to read. 1 Year Limited Warranty.