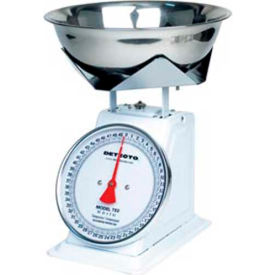 Top Loading Dial Scales With Bowl
Top Loading Dial Scales With Bowl Provide Accurate Measuring Of Shipping And Packaging Supplies In Environments When Digital Scales Are Not Essential.

Top Loading Dial Scales with Bowls are made of stainless steel for long lasting durability. Shatterproof dial cover provides accurate readings and safety when measuring packaging and shipping supplies. Removable stainless steel measuring bowl provides easy load and unload of measured item. Available weight capacities are 2, 11, 25, 50 and 55 lbs or 1, 5, 11, 23 and 25 kg. Readable ozs are 0.25, 1 and 2. Dial diameters available are 6 and 8 inches. Platform diameters are 8 and 11-1/2 inches. No batteries required.