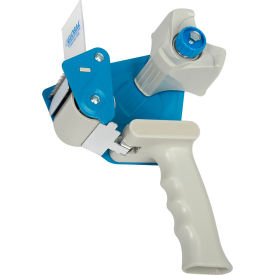 Hand Held Tape Dispensers
Hand Held Tape Dispensers Allow Convenient Packaging For Warehouses, Assembly Lines, Distribution Centers, and Other Carton Sealing Applications.
Available styles are Clamshell, Ergonomic, Heavy Duty, Lightweight, Mousetrap, and Pistol Grip
Adjustable tape brake supports tension control and delivery
Easy grip handle properly positions hand for reduced muscle strain
Made of high quality materials for impact resistance and durability
Handle types are Foam, Plastic, and Steel
Hand Held Tape Dispensers Are Designed To Give Quick and Efficient Tape Wrapping Control Over Various Sized Boxes, Packages, and Other Items. The
Heavy Duty
models have a rubber roller to hold tape while dispensing, an
adjustable tension brake
, and a
comfort grip handle
to help reduce discomfort and fatigue. The
Pistol Grip
dispensers have a wipe down plate for improved tape adhesion and can support up to 3" rolls. The
Clam Shell
design allows easy one handed use and has bright color finishes for high visibility in cluttered work areas. The
Lightweight
units are portable and easy to handle during extended work durations. The
Mousetrap
style has less parts than a conventional tape gun making it lightweight, easy to load, and reliable. The
Ergonomic
dispensers are made for user comfort helping to minimize muscle strain and fatigue for increased productivity. Available colors and additional specifications vary per style.