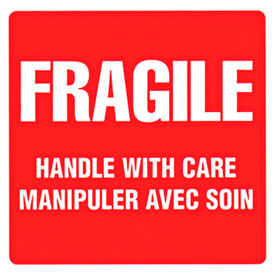 Fragile Shipping Labels
Fragile Shipping Labels Are Used For Applications Including Distribution, Storage, Commercial, And More.

Fragile shipping labels are made of high quality materials for long lasting durability and dependability. Labels provide identification of liquid, glass, electronics, and other fragile items requiring care. Pressure sensitive labels reduce damage and ensure proper transport handling. Bright colors and fluorescents allow high visibility for easy identification. Label rolls accommodate hand and dispenser applications. Various message options provide application versatility. Texts include 2 Arrows (This Side Up), Do Not Stack, Fragile (Red Fluorescent), Fragile Handle With Care, Fragile With Glass, and Glass Handle With Care. Label/Roll quantity is 500. Package quantity is 1 Roll. Colors are Black on Fluorescent Red, Red/Black on White, and Red on White. Dimensions vary per model.