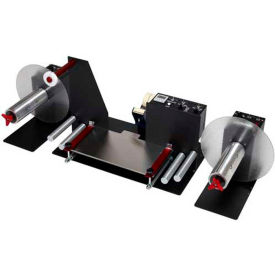 Automatic Label Splicers
LABELMATE Semi-Automatic Reel-To-Reel Label Splicing Kit For Up To 8"W x12"Dia., 3" to 3" Core Rolls

Reel-to-Reel Splicer for Splicing together labels up to 8" wide, on 3" diameter cores, and up to 12" outer diameter rolls. Includes RRS-8 Splicing Table, Two CAT-3-CHUCK Drive Units with two Label Flanges, Control Panel controls for both Units' Torque and Direction, Two Locking Bars to lock the Units in perfect alignment, Splicing Tape Roll Holder for 1" or 2" wide tape and Pre-set six digit Counter. The Counter stops the system when the desired count is reached.

These Turnkey Label Splicing Packages allow you to splice one roll of labels to another in order to make a larger roll from two smaller rolls, or to change label types during a production run. An 8" wide Splicing Table accepts label widths from 1/2" to 8". Pre-set the Counter to stop the system when the desired count is reached. These Label Splicing Packages are bi-directional, virtually silent in operation, and run at speeds up to 50" per second. Usually Ships within 3-5 Days.