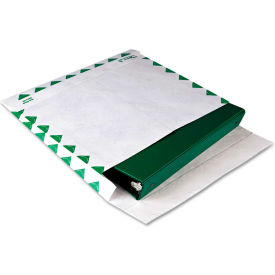 Tyvek® Self-Seal Flat Envelopes
Tyvek® Mailers Provide Protection for Mailing and Shipping Items.

Tyvek® Expandable models provide superior protection at a shipping-cost-saving weight. Horizontal, open side orientation provide easy inserting and removing contents. Self-adhesive Flap-Stik® closure provides a secure, peel-and-press seal. Available types include Booklet Expansion Mailers, Expansion Mailers, Jumbo Mailers, Leather Mailers, Mailers and USPS First Class Mailers. Widths range from 6" - 18". Lengths range from 9" - 23". Openings are end or side. Available in Plain and First Class printed borders. Sold in package quantities of 100.