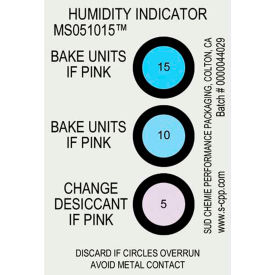 Humidity Indicator Cards
Humidity Indicator Cards Are Designed To Indicate Humidity Conditions For Various Types Of Barrier Packages.

Humidity Indicator Cards measure the level of humidity that the contents of the packaging have been exposed to. Durable construction provides accurate moisture readings and long lasting reliability. Comes in Quart Can or Pint Can types for easy carrying and quick dispensation. Available in quantities of 100, 125, 200 and 500. Dimensions vary per model. Complies with JEDEC Standard.