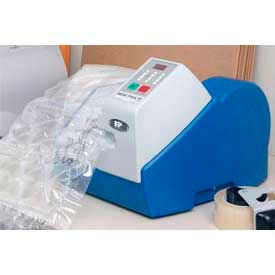 Mini Pak'R® - Air Cushioning Film Rolls
Air Cushion Machine Quickly And Easily Fills And Seals Air Cushions For Packages.

Save money by making your own wrapping material! Air cushioning is great for packing, shipping and receiving areas. This air cushion machine provides an economical alternative to buying cushion wrap packs and loose fill packaging peanuts. Compact design fits on table tops and weighs only 13 lbs. Simply select an air cushion type, load film (sold separately) and machine dispenses air cushions up to 25 linear feet per minute. Automatically sets correct air fill amount and sealing temperature for loaded film. Includes 2 Teflon seal replacement belts. Cushioning machine measures 14 L x 13 W x 11 H. Includes 110V power cord. Air Cushions are sold in case quantities.