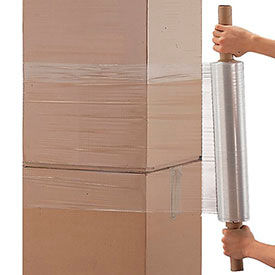 Hand Stretch Wrap - Extended Core
Hand Stretch Wrap with Extended Core Handles Keep Contents Tightly Bound and Palletized Items Stable.

Hand Stretch Wrap with Extended Core Handles makes it easier to wrap contents by hand while keeping contents tightly bound. The film retains its tension while in transit for secure shipping for distribution and commercial shipping needs. Core polyethylene wrap protects contents from debris, moisture, theft, and more. Integrated handles prevent friction for convenient operation and handling. High clarity allows efficient inventory identification. Puncture resistant film provides content stability. Widths are 10", 15", 20"and 30". Lengths are 700 and 1000 feet. Gauges range from 60 -120. Multiple color options allow easy and efficient inventory identification. Available colors are Black, White, and Clear. No assembly required.