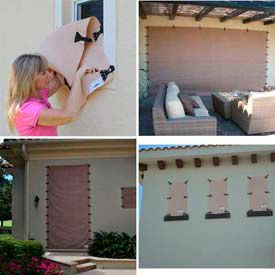 AstroGuard Hurricane Fabric Protection
AstroGuard Hurricane Fabric Is Used For Providing Hurricane Protection For Homes Or Businesses.

AstroGuard Hurricane Fabric is made of Resin-Coated Ballistic Nylon material for long lasting strength, durability and dependability. Fabric is 40% stronger than polypropylene and designed to deflect hurricane-force winds and prevent pressurization of the home or facility, which is what causes roof lift-off and catastrophic damage. Lightweight and compact for easy deployment and storage. Blocks 100% of wind and rain and protects from flying debris. Category 5 wind load tested. 100% UV resistant. Meets Florida Building Code and HVHZ approved (#15208). Available in 44 in. L x 72 in. W and 72 in. L x 132 in. W units and for units specially made for Single or Double Sliding Patio Doors or Single or Double Garage Doors. 10 Year Limited Warranty. Various Installation Clips and Fasteners are also available separately.