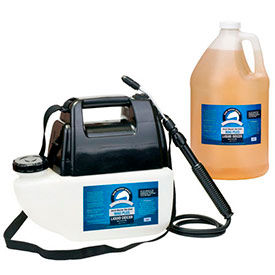 Liquid Ice Melt Sprayers
Liquid Ice Melt Sprayers Reduce Snowfall Accumulations For Outdoor Ground Surfaces Including Residential, Commercial, and Other Environments.

Liquid ice melt sprayers help prevent hazardous travel accumulations and are easy to handle and operate. Liquid solution allows even spread across the surface. Units reduce snowfall accumulations when applied at the onset of a storm. Select models feature a lightweight design and ergonomic handle for easy lifting and portability. Walk behind sprayer is electronically powered and includes a spray wand that extends out 7-1/2 ft. Compatible chemical blends vary per ice melt system model.