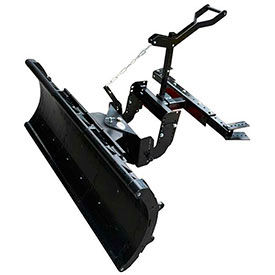 Nordic Plow Snow Plows
The Ultimate Snow Plow. Used For Any Season

Nordic Plow can be attached to virtually any all-terrain vehicle (ATV), utility task vehicle (UTV), zero turn mower, or golf carts. Use the Nordic Plow on any surface you don't want to leave marks or get caught on, such as paver bricks, ornamental stone, gravel and even turf. The rounded edge blade does a great at clearing snow while gliding over your driveway, sidewalk cracks and uneven surfaces. At 12" deep and 20" high, plows are easy to store and attach to your vehicle. Constructed from ABS Plastic for the Blade and Re-Enforced Steel backing. Black color finish, comes unassembled. Type and width vary by model.