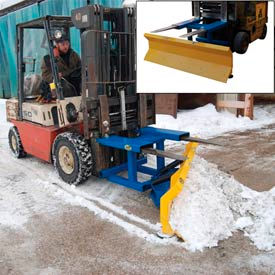 Fork Truck Snow Plows
Easily Convert Your Forklift Into A Snow Plow Using This Fork Truck Attachment.

Durable steel snow plow easily attaches to forks on forklift trucks. Manual pivot mechanism allows angle plowing in either direction to divert snow and debris towards the curb or alongside a building. Floating pads allow adjustment of plowing height. Adjustable springs allow blade to pivot back for safety. Pass-through fork tubes keep weight back towards fork truck mast. Locking pins secure snow plow in place. Includes a replaceable lower blade. Center to center fork tine measures 24". Fork lift opening is 24"L x 7-1/2"W x 2-1/2"H. Optional Counterweight Balance improves better plowing performance (sold separately).