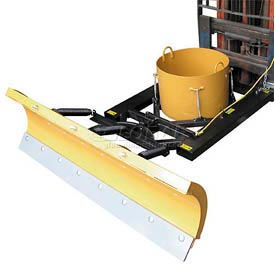 Fork Lift Snow Plow Blades
Our Forklift Plow is used for moving snow and slush from your dock area and parking lots.

Snow Plows are designed for use with a Fork Lift to further the use of your existing equipment. Integral trip springs help prevent damage from rough or uneven surfaces. Easy angling and back grade abilities for optimal performance, as a simple release cable adjusts plow blade angle to two positions. Forklift Snow Plow is constructed of 1/4" rollplate with steel rigs. Snow Plows are 6'W or 7'W overall, with 5/8" x 6" hardened steel cutting edge for long life. Safety chains included help secure plow unit to the fork truck.

Optional Counterweight is designed to hold 500 lbs. of sand to help keep snow plow blade flat on the ground.

NOTE: OSHA requires contacting the manufacturer of your truck for written approval for the use of any fork truck attachment.