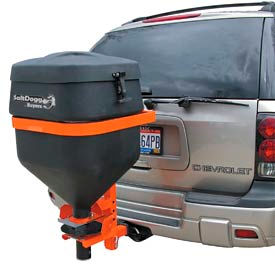 Pickup Truck & SUV Tailgate Salt Spreaders
Pickup Truck and SUV Tailgate Salt Spreaders Attach to the Back of Pickup Trucks or SUVs For Maintaining Large Commercial Grounds.

Pickup truck and SUV tailgate salt spreaders dispense large quantities of salt to surface areas in need of ice melt and traction. Tailgate salt spreaders include a heavy-duty 12V motor housed in a sealed motor chamber for extra protection from salt and elements. Most spreaders feature a fitted lid to provide protection for the materials from moisture. Select models feature variable speed controllers or wireless controllers. Rugged poly hoppers and powder coat finished steel mounting frames help resist corrosion. Weight capacity range is 240 - 1024 lbs. Spreader capacity range is 3 - 12.8 CU.FT. Spreading material and additional specifications vary per model.