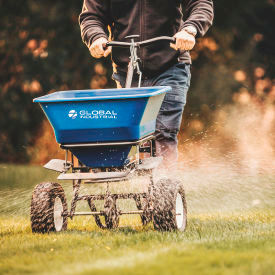 Global™ Universal Spreader
Global™ Universal Spreader Evenly Distributes Everything From Ice Melt to Seeds in Multiple Outdoor Environments.

This spreader has a 100 lb. capacity plastic hopper with a screen to prevent materials from jamming spread functions. The spreader's new enclosed gearbox with commercial grade alloy gears and an integrated grease fitting ensure that the moving parts of the spreader are out of the elements and are easy to maintain. This spreader spreads ice melt, salt, seed, fertilizer, lime, and more, evenly and quickly. Spreader features a welded steel frame and a comfort grip handle with a flow regulator for ease of use. The included 3-flap adjustable deflector controls spread pattern, while the rear deflector protects the operator's feet. The included plastic cover protects materials from rain, wind, and other elements.