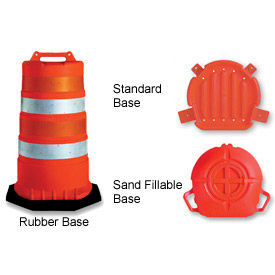 Plastic Safety Drums
Plastic Safety Drums Are Designed For Applications Including Construction, Roadwork, Emergency Services, and more.

Plastic safety drums accommodate for streets or sidewalks in need of pathway guidance or restriction. Impact resistant design and polyethylene construction allows for lasting endurance and corrosion resistance. Drums deter traffic from hazardous roads and conditions including accidents, breakdowns, maintenance, and more. Some units include reflective sheeting bands for high visibility in low lighting applications. Anti-roll foot design ensures unit stability and tip prevention. Styles are Drum Only, Tire Ring, and Drum with Tire Ring. Package quantity is 1. Color is Orange. Select models meet MUTCD specifications. Dimensions vary per model.